By Maddie Santiago
Ever notice how a deep breath in the middle of nature makes you feel relaxed, joyful, and rejuvenated? The fresh air found around nature is beneficial to our body and mind. However, living in a city can hinder us from being able to take it in. Even if there is access to nature around, most of us are too busy to go for a hike or 'stop and smell the roses'.
The main reason we feel so good in nature is that the air contains the aromatic organic compounds produced by the surrounding plants, called terpenes. Taking in smells from different plants can help our bodies in different ways such as reducing stress and anxiety, and increasing happiness. Being isolated from these organic compounds can make us what Dr. Eric Fishman, MD calls "terpene deficient." This is the reason for the Japanese practice of "taking in the forest atmosphere" or "forest bathing".
Dr. Fishman created MONQ as an easy way for modern society to be able to reap the benefits of aromatherapy and "forest bathing". People use essential oils in many ways. Some of those ways are to relax, calm, invigorate, focus, and achieve many other types of physical and emotional healing by diffusing a certain oil, or oil blends, into the air with a diffuser. Basically, MONQ is a personal essential oil diffuser. Instead of diffusing the oil, or oil blend, into the air of the room you are in, MONQ diffuses the therapeutic air directly into your mouth. Each device contains a three essential oil blend to deliver a certain feeling or experience. It does not contain tobacco, nicotine, or any artificial chemicals. MONQ comes in 7 blends: Zen, Vibrant, Sleepy, Active, Healthy, Happy, and Sexy.
We received the MONQ devices to try. Each MONQ device comes in a beautifully designed white tube that has the three essential oils it contains depicted on the side. Once we popped open the cases, we saw that each device is a tin metallically finished 'pen' type object. While MONQ resembles a vape pen, you do not "smoke" MONQ. It is not meant to be inhaled into the lungs, but rather a short gentle breath of the therapeutic air in through the mouth and out the nose.

It was an interesting experience for us here at Holistic Healing News to be able to try out this product. A gentle breath in through the mouth and out the nose was a little difficult for us to get the hang of at first, since we haven't used anything like this before. The therapeutic air that is diffused has a lovely scent and is not overpowering. There is no 'chemical' or 'synthetic' smell, nor is there a burning or ash smell. We all tried the Happy blend which is sweet, subtle, and left us feeling clear headed and rejuvenated. I tried the Active blend as well, pictured below. I really believe that the Active blend gave me an energy boost. This was a very gloomy and cloudy day, and being from Arizona, days like this consistently make me tired, lazy, and unmotivated. However, after the Active blend I felt re-focused, awake, and ready for the day ahead of me.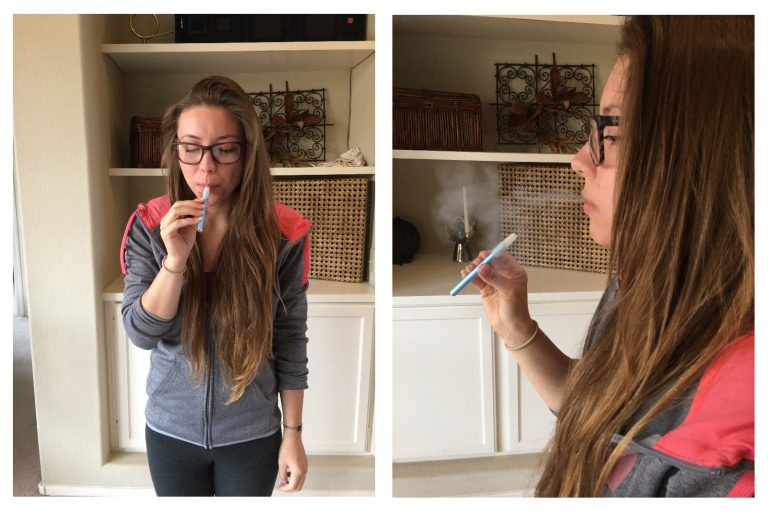 Here at Holistic Healing News we know that the earth provides natural healing for the body and mind. We love the fact that that MONQ contains strategically compiled and organic essential oils, no artificial chemicals, and the packaging is both informative and beautifully designed. It is an easy, on-the-go, personal, essential oil diffuser with no clean up involved! MONQ is great way to harness the all-natural healing power of essential oils.
MONQ is available online at monq.com and sold at many yoga studios, aromatherapy stores, apothecaries, and spas. To find a location near you, see the locations on the MONQ website.