By: Erin Laughlin
Having healthy skin is one of the most popular trends in the cosmetic industry. All the beauty gurus and beauty bloggers are always talking about the latest and greatest products to keep your skin looking hydrated and glowing. The key to achieving this radiant youth skin is one simple product, Hyaluronic Acid. This term has been plastered all over the internet lately. It is the new and trendy item that everyone wants to get their hands on. Hyaluronic Acid is the substance that will not only offer intensive hydrating qualities, but it also offers anti-aging and anti-inflammatory properties. Everybody wants to keep their skin looking youthful and rejuvenated, and Hyaluronic acid is the number one way to achieve that.
Studies show, that the amount of Hyaluronic Acid our bodies produce decreases as people get older. The loss of the body's natural Hyaluronic Acid, results in people starting the aging process and losing their youthful appearance. As people age, their bodies lose the ability to retain the moisture. The lack of moisture creates loss of elasticity in the skin; this causes sagging skin, which results in older looking skin overall. Hyaluronic Acid has skin-replenishing properties, which is what makes this substance phenomenal for anti-aging.
Hyaluronic Acid is found in a lot of different skin care products, such as moisturizers and face wash. It is the "new thing" that everyone is talking about. It is very beneficial to all skin types and should be added into everyone's daily routine. There are many ways in which people can add Hyaluronic Acid their skin care routine. One way would be to change to a moisturizer that has Hyaluronic Acid in it to replenish your skin not only throughout the day, but also at night. If you don't want to change moisturizers, add a night cream, gel, or serum with the substance in it to your routine. This way you will still get the benefits of the Hyaluronic Acid. There are also Hyaluronic Acid supplements that you can ingest, producing the same results as the topical products minus the extra work!
Contrary to popular belief, Hyaluronic Acid is not only used for beauty; it serves a purpose in the medical field as well. To help with a variety of joint disorders Hyaluronic Acid is either ingested or injected into the body. It reduces joint pain because it is a lubricating substance and provides support for different joints. Hyaluronic Acid is also used as lip fillers and wrinkle fillers in plastic surgery. Fillers with a Hyaluronic Acid base, are proven to be safer than the collagen fillers. Not only are they safer for the body, but they last longer, and they dissolve over time. Another use for Hyaluronic Acid is that it is used for certain eye surgeries, such as repairing a detached retina, cataract removal, and corneal transplantation. Hyaluronic Acid has many benefits for the eyes. It is a natural lubricant for the eyes and it almost acts as a shock absorber thus, keeping the eye in place and allowing it work flawlessly.
Healthy skin reflects overall wellness. Hyaluronic Acid is known as the "fountain of youth" because of its extraordinary anti-aging properties. It is almost as if this substance reverses the aging process by adding well needed moisture back into dry, dull skin. Adding this simple product into your everyday routine will be a game changer. You will start to see wrinkles reducing, and your skin become more taught and firm. Hyaluronic Acid is not difficult to find, it is sold in almost every local drug store, such as Walgreens, CVS, and even Whole Foods.  From fixing achy joints, to replenishing skin to look youthful and vibrant, Hyaluronic Acid will do wonders for your body.
A great new product to try are NeoCell's Hyaluronic Acid Capsules. They assist in cell turnover, and provide that radiant, youthful glow everyone lusts after.  NeoCell's Hyaluronic Acid Capsules hydrate the skin from the inside out thus, providing a more youthful skin environment. Give your skin the hydration it deserves and quench that thirst with NeoCell's Hyaluronic Acid Capsules! To learn more about this natural product, visit their website!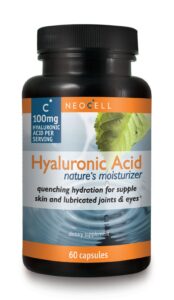 This Product is available at GNC, Vitamin Shoppe, Walgreens, CVS and health and natural product retailers worldwide for $16.99. Visit http://www.neocell.com/ to locate your nearest retailer.