By Melody Gluth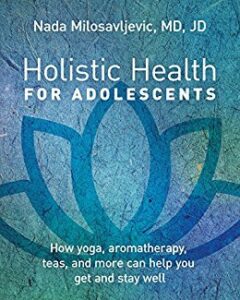 How do we keep our adolescents healthy during this rough patch in their life? In her book, Holistic Health for Adolescents, Dr. Nada Milosavljevic explains how complementary and alternative therapies may serve to aid teenagers with their mental health. She presents different therapies that are based around the five senses, such as acupressure, aromatherapy, yoga, and sound/music therapy.
Adolescence is a difficult time for many youths. They are dealing with many factors, such as stress, fatigue, depression, sleep issues, trouble focusing and concentrating, headaches, and substance abuse. It is hard on them and their families. This book is a helpful guide for both parents and teenagers looking for new, synergistic ways to deal with all the problems life throws at them. It describes how yoga, aromatherapy, teas, and so much more can help youth get better and stay healthy.
Maintaining our mental health is just as important as our physical health. Paying attention to our mental health and making changes to improve it will benefit our brains in the long run. About 20% of teenagers experience depression before they reach adulthood, and about 10 to 15% suffer from symptoms of depression at any one time. Sometimes, conventional treatments such as therapy and prescription medicines may not be enough to help.
Complementary and alternative therapies, such as practicing yoga or taking dietary supplements, can improve overall well-being. Using these therapies can also prevent future illness and ensure a healthier lifestyle.
Dr. Nada Milosavljevic is a Board-Certified, Harvard-trained physician and faculty member at Harvard Medical School. She is also a complementary and alternative medicine specialist, and the founder of the Integrative Health Program at Massachusetts General Hospital. Each chapter in her book reviews the signs and symptoms of a certain problem, and then offers treatment protocols and therapies to use in order to alleviate the problem.
Nancy Rappaport, an Associate Professor of Psychiatry at Harvard Medical School, describes Holistic Health for Adolescents as:
"A stunning resource for parents, teenagers and clinicians. Dr. M. is a seasoned and talented doctor in complementary alternative medicine. She provides a guided menu that is readily accessible to treat common adolescent problems such as difficulty sleeping, trouble focusing, and low mood. With cutting edge accessible knowledge, Dr. M. provides a valuable toolbox of interventions to empower teenagers with complementary and alternative self care skills."
American Reference Books Annual recommends the book and says:
"Holistic Health for Adolescents draws on its author's extensive and diverse background in law, psychiatry and alternative medicine, as well as her own family story to propose solutions encompassing nonconventional therapies that can work alongside more common and traditional medical approaches. . . . Recommended."
Holistic Health for Adolescents does an excellent job of describing the issues that teenagers go through and offering complementary and alternative therapies that can help them through this difficult period in their life. Holistic Healing News recommends it to readers who may be experiencing the same trouble, or to parents who may be concerned about their ad